Happy Birthday Mr Sheppard!
Happy Birthday Mr Sheppard!
29 April 2020 (by Kelly Taylor (Kelly))
Lockdown birthday celebrations for Mr Sheppard.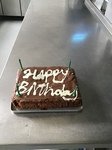 All of the children at Ash Green and those at home, send birthday wishes to Mr Sheppard - he was thrilled with his birthday cake and song from the Key Worker children in school today! We hope he has a wonderful day. We would also like to say thank you to him for all of the wonderful work he has done, and continues to do for our community, today and every day!