Easter Bonnet parade
Easter Bonnet parade
28 March 2018 (by Steven Mayfield (Steven))
We hosted our third Easter Bonnet Parade on Monday 26th March, 2018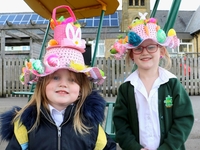 This year's parade which was led by Cllr Barry Collins, and was a real community event with Lee, Mary and Ray, community wardens, and PSCO Nicola Shepard keeping us safe on the parade.
Families taking part in the parade followed the Easter trail of chicks, bunnies and eggs, and had to look for clues to work out a hidden word. There was a prize for working out the hidden word was "Chocolate".
Most of the Easter Bonnets were made during two Family learning events at school and the children's centre. There were even some Easter caps worn. Best bonnet creations were judged at the end of the parade in the Holy Nativity Church by Cllr Collins. The Easter Egg prizes for best bonnets were donated by Morrisons. Fresh Foods also kindly donated a £25 voucher as a raffle prize.
The lucky winners of the Easter trail were Daisy Boddison from Upper Site Reception and Logan Roberts from Lower Site Nursery.